A Tour of the Squares of London, 27th January 2001
On the 27th January 2001 I toured many of the squares of London, by foot and by London Underground. I photographed each square, and the pages here include these and some description.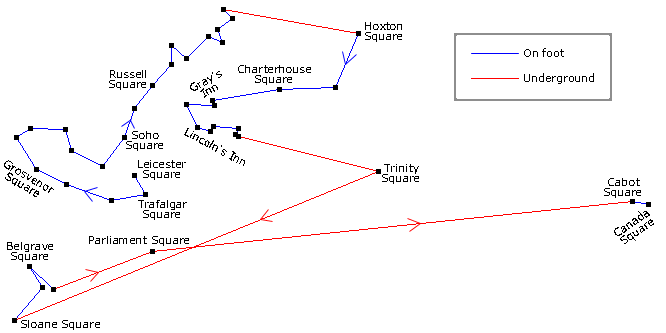 A diagram of the route I took to visit the Squares of London.
⇒ Click the squares to visit the photo / description pages.
The locations of the squares are calculated accurately based on their actual grid references, but the scale of the map is estimated. And obviously the lines are only there to indicate the route - it isn't possible to walk in a straight line between one square and the next!
To give some idea of scale, it's about 300 metres between Leicester Square and Trafalgar Square, and about 9.5 kilometres between Sloane Square and Canada Square.
| | |
| --- | --- |
| Text and Images Copyright © 2001-2002 David R Edgar | go back up to London Squares |